I missed some albums in 2017.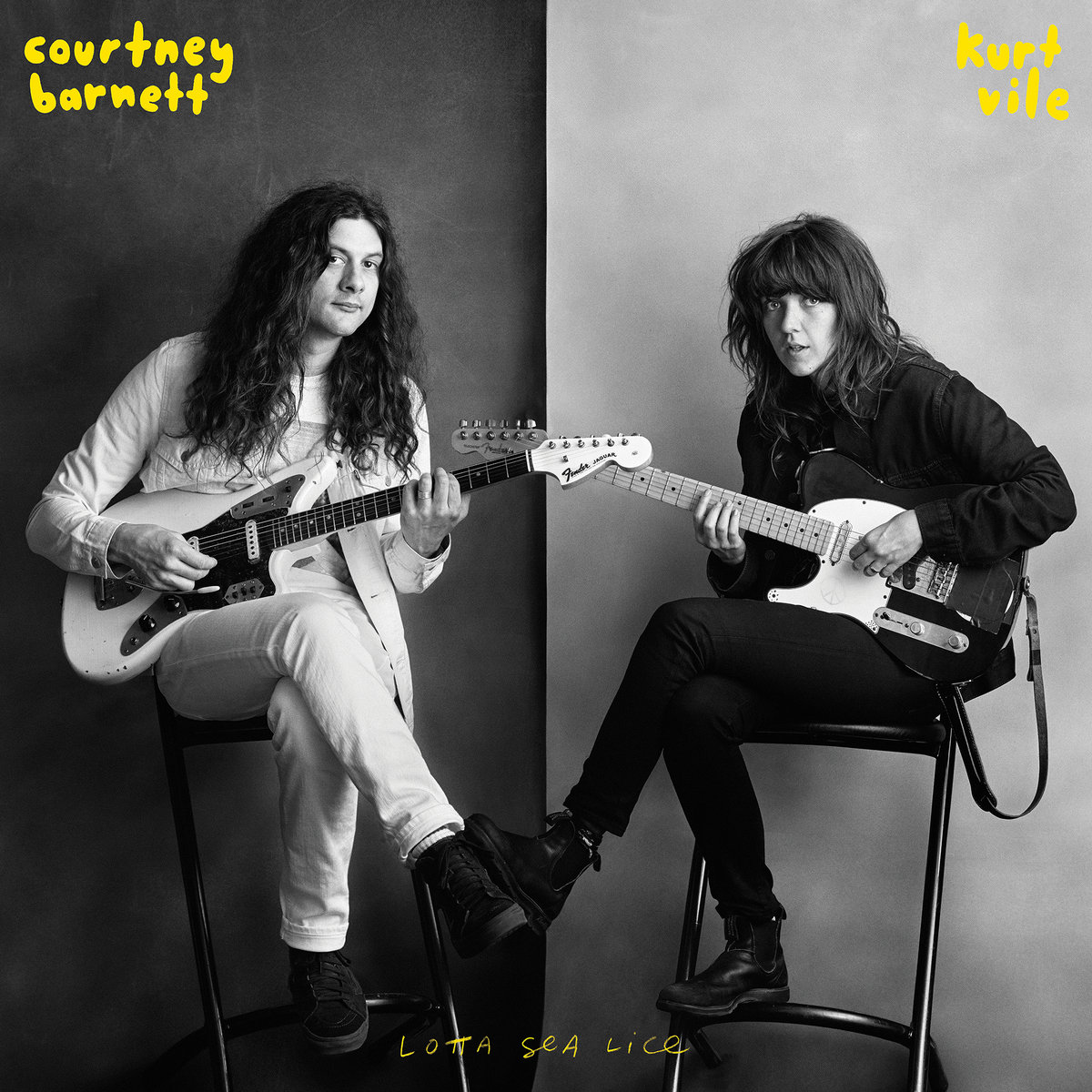 Oh, alright, I missed a damned lot. But I need no old pissy bastard in the sky to damn my miserable soul if I never heard 2017's Barnett & Vile collaborative special, Lotta Sea Lice.
Pair two of alternative rock's celebrated darlings and most productive musicians on the planet ever prescribed the term "slacker" and the result would hint a record more smoked-out than pressed out.
Realize, however, this wasn't some wetdream of an indie rock producer in gold frame Ray Bans and chewing on cynicism like old kale—it was the want of Courtney Barnett and Kurt Vile.
Two of the most productive musicians on the planet.
The result won't save your already lost soul, but it might just give you another blessing to count.
Because I swear to God, I loved this damn record until I hated this damn record. And now I love it again. Or most of it anyways.
From the genesis notes of "Over Everything" to the sharpened axes of "Fear Is Like A Forest" to the ringing "Peepin Tom" vocals, this album whets itself with the easy-going twang of Barnett just as much as it picks along the wiry fingers of "Continental Breakfast" or the wry humour of Vile's baritone Neil Young whimsy on "Blue Cheese."
The man's straight up savage on "Outta The Woodwork," but his tone wouldn't let you know it. Just as much as neither want to be identifiable within their own cuts.
This is the least enviable part of the job of the critic:
Working through these parts of Barnett and Vile was like navigating a pair of typhoons—two cat-two hurricanes, thundering on each other's horizon. And somehow, when the game is figuring out who the hell is who and what the hell is what, the critic must split the stormy sea with his critique.
The truth of the matter is, between Barnett mimicking Vile's fingerpicking flightiness and Vile imitating Barnett's laidback chordal quirkiness, it sounds like the artists don't want to be known for what they do.
Not because of some spiteful, Hicksian barter to return to the realm of retail shoe stores but because at the end of day, who really gives a damn who plays what?
These guitarists play together. They dig into their guitars and they harmonize to each other. They work with Mick Turner and Jim White, two of the Dirty Three, an extra guitarist and drummer just to ensure the album stays in that fuzzy, bedheadspace.
No Mick Turner? Then there's ex-Bad Seed, Mick Harvey. No Jim White? They recruit Warpaint drummer Stella Mozgawa. All adding to the compositional craziness that permeates the record.
This record doesn't want to get up. Forget about wearing on the couch, it's perfectly keen to keep the listener goofy footed, pensive yet upbeat in pajamas and bed. That's where half of the record was written, anyhow.
I would appreciate a little less noise, but for all the times it seems absolutely, droningly miserable there (see: the barely bearable beatings that are "Let It Go" and "On Script"), it finds time to keep the guitar licks of the project in constant circulation.
Not even between the artists together, but between the Barnett and Vile apart.
Light, dark, light, dark, light, dark trades Vile's vocals and riffwork on "Blue Cheese." The former, whimsical; the latter, blues-fillled. Up, down, up, down, up, down goes Barnett's fingers and voice along the melody of "Peepin' Tom." One element rises, the other falls.
In one go, she cracks a cut hardened by futility like an egg. Her Aussie drawl adds a vulnerability that the twanging corners of Vile's southern stoner lips lacked.
The cut is worth the price of admission—just as much as Vile's cover of Barnett original, "Outta The Woodwork." Bringing new life to the other's work is just the name of the game for these two.
But even when the two are tossing phrases between each other on "Continental Breakfast" or "Over Everything" it's impossible not to get the sense that maybe, just maybe…
And I may be crazy or something here…
That they like each other? Not like like, but like, like each other.
Because throughout impressions, the thought is refreshing, breezy and easy, just as listening to Lotta Sea Lice should be.
Quick Impressions: Kurt Vile and Courtney Barnett tag-team a record to make to wish your bed wasn't so damn comfy and that the pair would collaborate more. I just hope next time they don't get too lost in their own noise.
Tracklist:
"Over Everything"
"Let It Go"
"Fear Is Like a Forest"
"Outta The Woodwork"
"Continental Breakfast"
"On Script"
"Blue Cheese"
"Peepin' Tom"
"Untogether"